Hi Cristina, could you tell us a bit about yourself and how you started knitting and then designing?
I was bit by the knitting bug in 2006. I remember that one day I was suddenly interested in knitting. Then I began designing things for myself and got many requests for the patterns. That's how I got started. Nothing was really planned.
How would you describe your style?
I like designing things that I love to wear but I don't think that I have a consistent style.
Is there any pattern you were particularly proud of designing?
Every single one. My designs are like my kids!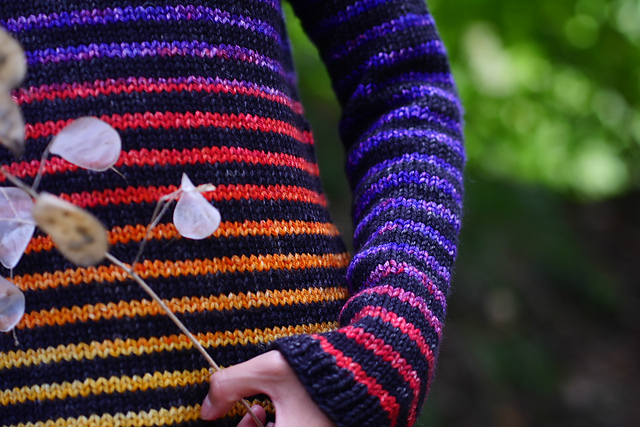 Which aspect of the designing process do you find more challenging?
Writing patterns that are simple to understand to a variety of knitters.

And which one is more rewarding?
The actual process of knitting! That's why I don't use sample knitters ;-)

Do you have any favourite theme, inspiration that guides you through your work?
No really, in fact my works do not have cohesive theme. I let my instinct guide me most of the time. It is not the best business plan, I afraid.

And what about colours, is there any particularly shade that stands out?
Pinks, grays and purples!
If you had the opportunity to learn a new skill what would it be?
Steeking! Its irreversibility scares me!

What's your favourite item to design?
Sweaters!
If you had to design a different kind of item what would it be?
Maybe shawls, but I'm not sure.
What's your favourite season to knit?
I love knitting in the fall. Summer is too hot to knit and winter is too cold. In spring I don't feel like to knit as summer is approaching. Fall is just the right season, well, for the knitter, not for the designer, which should actually work ahead…

If you had to choose one pattern from this GAL to knit or crochet which one would you pick?
I'm knitting Peekaboo by the talented Lisa Chemery. She has some amazingly cute patterns!
What's your favorite aspect of this GAL?
Getting in touch with other designers!

Would you like to share with us any new project?
Probably I will release a vest pattern in December. The pattern is surprising succinct for a garment! I will also start a test knit for a striped pullover for kids.
Check out more about Cristina's work on
ravelry
Website
Facebook
Pinterest
Twitter
All the photos are Cristina Ghirlanda copyright and were used with her permission, except Peekaboo cardigan which is also credited.